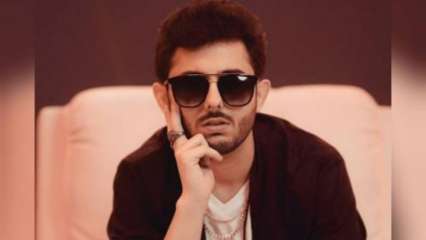 Indian Youtuber Ajey Nagar, who is popularly known as CarryMinati, is famous for his comedy skits and roast-centric videos. He was just 10 years old when he introduced himself on YouTube. CarryMinati is officially the most followed YouTuber in the country and he has been winning audiences with his roast-centric videos, diss tracks, and rap songs for over a decade now.
In the year 2020, CarryMinati found himself in the middle of controversies after making a roast video titled 'YouTube vs TikTok- The End' on TikToker Amir Siddiqui. With more than 70 million views, his video became the most famous and the most liked non-music video on YouTube. However, it was taken down for violating the terms of service. It was accused of cyber-bullying.
Net worth 
Ajey Nagar, who is from Faridabad, managed to gain popularity at a very young age. According to Filmy Siyappa, his net worth is estimated to be $4.3 million which is around Rs. 32 crores INR. His monthly income is reportedly Rs 25 lakh. According to caknowledge.com, CarryMinati's annual income is over Rs 3 crore. 
YouTube career
Ajey Nagar, known for his distinctive way of talking while narrating, started making videos in 2008-2009. He has a live gaming channel too. He makes diss videos, song parodies, and satirical comedy videos. Earlier, the name of his channel was Addicted A1, where he shared videos of gaming. CarryMinati used to play counter-strike and backed it up with commentary. He mimicked Hrithik Roshan and Sunny Deol in his gaming videos.
Because of his mimicry, he changed the name of his channel to Carry Deol. Soon after he started roasting people on YouTube, Ajey changed the name of his channel to CarryMinati. In 2017, he created another channel with the name CarryIsLive where he streamed his gaming videos to keep both the content on separate channels.
According to YourStory, Carry said, "It was all very organic and let's just say I was a curious kid. I remember in the start, I used to record myself doing all these crazy football tactics so that I could replay it a million times and learn from my slipups to ace the sport."
Awards
Carry won the TIME's 10 Next Generation Leaders #10 award in the year 2019. He has been awarded 2 gold play buttons, 2 silver, and 1 diamond play button for his channel CarryMinati on YouTube.
2020 Controversy 
After roasting TikToker Amir Siddiqui on YouTube, ratings of TikTok on the Google Playstore app went down. The video was immediately deleted from YouTube because of the chaos that it created. Carry made another video titled 'Stop Making Assumptions | YouTube Vs TikTok The End' which helped him gain immense popularity. 
Apart from CarryMinati, Bhuvan Bam has carved a name for himself in history. He is the first Indian YouTuber to cross 10 million subscribers. He can easily relate with his audiences through his amusing content. His YouTube channel- BB Ki Vines is one of the most-followed channels on YouTube.
According to caknowledge.com, Bhuvan Bam's net worth is around Rs 22 Crore. Some reports claimed that his monthly income is Rs 95 lakh including sponsorships. He is also the digital Brand Ambassador of Myntra and he gets Rs 5 crore from this deal. As per a report of techtofacts.com, Bhuvan Bam is also the Brand Ambassador of Mivi and earns Rs 4 crore every year.



Courtesy – www.dnaindia.com

Source link